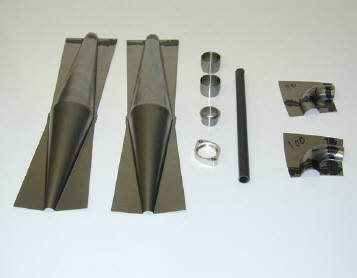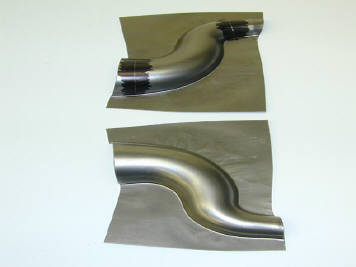 Shown to the left is the Quickdraw Pipe Kit. For $75, you get what is shown here to weld up your own Quickdraw Hot Pipe. Save on labor costs and weld it yourself. The head pipe pieces have cut lines for 90 and 100 degree. It does not come with hooks, flex or springs. You can make the hooks yourself out of .093" welding wire. Instructions for building these Hot pipe kits are NOT included. You need to know what you are doing and have some fabrication and Welding skills to build these pipe kits. These kits should be tig welded. $75 per Kit
The flex (not included) comes in 2 foot lengths for $10. It does require swedging, this can be difficult sometimes. You can get ready made flex joints (not included) from us for $25 each. Just tell us how long you want them. We will trim all the edges of the stampings for an additional $20 .
Springs (not included) are also available for $3 each
They come in 1-1/2", 2", 2-1/2" or 3"
Shown above is the WTC (wrap to center) or Deep Vee Pipe option , buy this in conjunction with the Pipe Kit above for $25 and use these parts to make up your own Quickdraw WTC or Deep Vee Hot Pipe.
$25 each set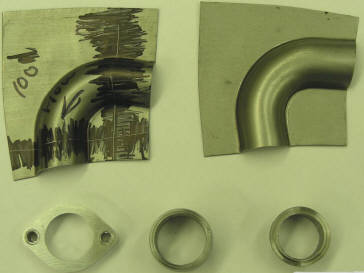 Shown above is our head pipe kit, available in 90, 100 or 105 degrees, the kit shown in the picture is marked for 100 degrees. This kit comes with the parts shown, there are no hooks, flex or springs with this kit. This head pipe kit is $45.